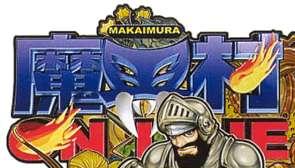 Developer: Capcom/Game Factory
Systems: Microsoft XBox, PC
Year released: Cancelled




As of this writing (March 2007), the game has been cancelled.

July 28th, 2004 - A screenshot from the upcoming game?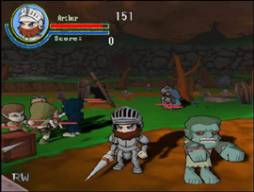 December 09, 2003 - Interested gamers prompted to sign up to be included in test that should launch early 2004.
TOKYO--Game Factory Entertainment Studios, a Taiwanese company, will begin beta testing Ghouls 'N Ghosts Online Zero starting early next year. Ghouls 'N Ghosts Online Zero is being licensed by Capcom and developed by Game Factory for multiple platforms (Xbox, GameCube, PS2, the PC). The player versus player-style online game will be rendered in cell-shaded 3D, and the Terazona engine from Network developer Zona will be adopted to support the game. The roster on the Game Factory site currently shows 18 characters, with known Ghouls 'N Ghosts characters Arthur and Red Arremer, and new characters including Pamella the vampire princess.
Game Factory "members" will be given first priority in testing out the beta of Ghouls 'N Ghosts Online Zero. Signing up is free, but the registration section has yet to open.
Source: Gamespot
March 06, 2003 - At the Game Developers Conference today in San Jose, CA, newly formed network company Zona Inc. debuted the first playable version of Ghouls 'N Ghosts Online, a massively multiplayer online action adventure game.
Slated for a very optimistic fall 2003 launch, the MMOG is unofficially scheduled to appear on PlayStation 2, Xbox, GameCube, and PC. We say "unofficially" only because Capcom Entertainment has not yet "officially" announced anything, but there it was -- online and playable at GDC on the PC and Xbox. Zona is working on a second online Capcom game, Ghouls 'N Ghosts Match Fight, a one-on-one fighting game, also scheduled for multiple systems in the distant future.
Ghouls and Ghosts Online is a cooperative-style, real-time action game enabling players to roam vast medieval landscapes, team up to fight evil monsters, dragons, ghosts and ghouls, and build their characters as they progress. Text-based conversations and level building are a large part of the game's design, though none of that was shown today.
Only two months new, the early code running Ghouls 'N Ghosts Online was connected to the online cloud at the show floor, thus enabling 25 people to simultaneously play the action-oriented MMO. In development at Game Factory and using Zona's online technology, the title looks mighty, mighty early. Visually, the texture mapping is simplistic and the backgrounds are sparse, with same-style houses and a few short hills, brown fences, and trees dotting the landscapes. The character model (there is only one character to see and that's the equivalent of Arthur) is moderately constructed. The simplistic knight's minimalist functions include walking, running, jumping, double jumping, and attacking (poking), at least for right now. It looks exactly how one would expect a MMO to look in the early stages -- functional, not extravagant.
Zona Inc.'s technology is capable of enabling tens of thousands of players to compete simultaneously, and from what Zona representatives told IGN today, Capcom's Ghouls 'N Ghosts Online is aimed to provide just such a function. Using technology that's client-server based, Zona can run online games transcending platforms, enabling PS2s to connect to PCs and more. It's also server hardware and OS independent, enabling various OS systems to work over the complex, powerful network.
Source: IGN
Which job class in Ghouls 'N Ghosts Online sounds most appealing?






Screenshots:
Click on any screenshot to see it fullsize.
Preliminary screenshots:

Additional media:
Promo artwork #1
Promo artwork #2
Promo artwork #3

all images here courtesy of The Magic Box