Trivia
From Daimera: is there a G'NG reference in the anime Power Stone? Read on to find out:

I was watching the "Power Stone" anime, and there was something that I could have mistaken to be slightly Ghosts 'N Goblins related. At one point, the main character, Edward Falcon (Fokker, in the Japanese version) and his father Pride were in great trouble... Edward lost his Power Stone when a giant demon (that might have looked something like a Red Destroyer, only a little less...red) attacked, and the Power Stone ended up in the hands of Apollus, the butler. When the monster made to attack Apollus, he freaked out, his will to protect his masters getting ahold of him, and he used the Power Stone to transform (which was very strange for the show, usually no characters that aren't totally important get to use the Power Change). When Apollus transformed, he took a form that looks VAGUELY like a very skinny Arthur from Ghosts 'N Goblins... jousting lance and all! I'm not sure if it was intentional, however, Power Stone IS a game by Capcom, so they might have just put that in there as a sort of gag, to see if anybody would notice. I'll get a screenshot of it once I can get my stuff working.



Got some new and interesting info from Kenn Lucas here:

Apparently Capcom has this thing called Capcom Party. I'm not exactly sure what it is but you get games for your cellphone. I'd send a link but the site is in Japanese and it's 300 yen a month so I doubt it would do anyone any good. They've made three games for it though involving Arthur.

Small Makaimura seems to be a game where you collect money bags.
Puzzle Makaimura seems to be a puzzle game where you search a labyrinth for the princess.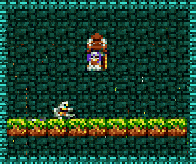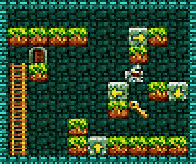 Puzzle Makaimura Revenge seems to be the sequel to that one. Supposedly containing 40 stages.



Here's some info on the mysterious Toshio Arima, supposed creator/designer of Ghosts 'N Goblins from Andrea Babich [who was one of the original contributors on the history.dat project, which was an offshoot of MAME] (courtesy of Dain):

"Here's the beginning of gg2.bin ROM from the Ghosts 'N Goblins ROM set:

THIS PROGRAME IS PROGRAMED BY TOSHIO ARIMA , IF YOU NEED SAME INFORMETION THEN FONE 0726-74-0943 , OR 2-14,YAWATAMACHI,TAKATSUKI, 569 OSAKA JAPAN

You can find the same info in Section Z. What it says is just one thing (zanyness apart): that Toshio Arima is the PROGRAMMER for these games. Arima was a former Konami employee, which quit together with Yoshiki Okamoto himself after the making of Time Pilot and Gyruss. They went to Capcom. Okamoto is still there. God knows where Arima-san is. The president of Xerox Japan is named Toshio Arima, but I doubt it's the same person."

So why is Arima credited with creating/designing Ghosts 'N Goblins when in fact he just programmed it? Read on:

"This was what originally appeared in History.dat. Since then, lots of history.dat project supervisors changed, and at some point, long after I stopped contributing, some new supervisor decided (why?) to extend the merits of Arima, who became 'Lead programmer and designer'. What happened then? It looks like everybody on the Net looked to history.dat to gather info about the G'NG saga."

So the mystery is at last solved. Who were the real designers of Ghosts 'N Goblins then? According to Dain, that honor goes to Fujiwara Tokuro, Yoshimoto S., and Yamato H. Now if someone could just tell us if the Red Ariimaa (Red Destroyer in the U.S.) was in fact named after Toshio Arima, we'd have one more mystery solved.



Here's a bit of Maximo trivia from Merle Johnson:

The one thing Ghouls related about Maximo that most will miss is that if you leave Maximo standing for a while he will hum the exact music of completing a stage in Ghouls 'N Ghosts.




Thanks to Skrybe's NES Prototype Page, another G'NG reference has been uncovered, this time in the Famicom game Higemaru Makaijima, which is based on the classic arcade game Pirate Ship Higemaru (which is available on Capcom Generation Volume 3). To quote Skrybe: "Pretty nifty game here. You go around in your little boat, looking for islands to explore and pirates to attack. The action scenes take place in mazes where you can use the barrels/rocks/whatever that make up the walls to attack the enemies. The music is pretty good, given the game's age, and the graphics can range from cute to creepy, depending on which island you're on at the time. The game's surprisingly text-heavy, and it seems like it has a pretty interesting story behind it." He goes on to say "Of special note is Hebi Island, which is totally themed around the old Ghosts 'n Goblins game."

Fascinating! I had no idea that there was a G'NG-themed island in this game (I've personally never played it, but I have seen it before). That alone is interesting... usually G'NG references in other games are just cameos, rather than entire areas or the like. As proof, here's a screenshot of the hero fighting a Unicorn: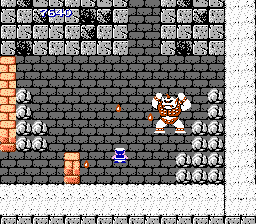 If you want to play Higemaru Makaijima, jump over to the Emulation section to download one of the two ROMs (there are minor differences between the two). Just make sure you have an appropriate emulator to play them on. If you want to jump directly to Hebi Island, just enter the password AAMI CAPA OAAE BDEC JANL EOMK. Also of note is an invicibility code, but here's what Skrybe has to say about it: "...a simple invincibility code: hold B and press Start on the title screen. While you'll be totally invincible, the game's graphics will become badly scrambled. Personally, I don't think it's worth the tradeoff. For the curious, this also happens on the actual cart, it's not a flaw in the rom."
You may also notice that the logo for the game looks suspiciously like the Japanese logo for Ghosts 'N Goblins. That's easily explained - the title of Ghosts 'N Goblins in Japan is Makaimura. The second part of the title for this game is Makaijima. The only difference between the two is the last character - in Makaimura's case it stands for "mura" and in Higemaru Makaijima's case, it stands for "jima". Pretty simple, eh?
Here's 2 more shots of Hebi Island: in the first pic, the hero is being stalked by zombies, and in the second pic he's fighting a Red Arima! (thanks to klez for the screenshots)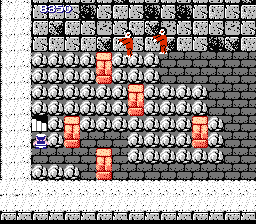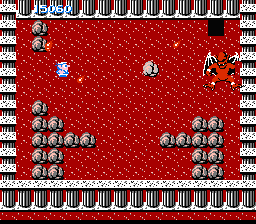 Thanks to Skrybe's NES Prototype Page for the screenshots, info and ROMs!
This just in from DaMunchy - a fan made game called Makaimura Exceed. According to DaMunchy, "Really awesome fan game. One mode is the first Makaimura with enhanced controls (double jump, change direction in mid-jump, take three hits). The other is an original game with levels that require a little more exploration. Think of it as a Zelda/GnG hybrid, or if you prefer, a Vampire Killer/GnG hybrid."

You can download it here, and check out these screenshots below. It looks pretty good!

*NOTICE - DOWNLOAD MAKAMURA EXCEED AT YOUR OWN RISK. IT HAS NOT BEEN TESTED BY THE STAFF OF THE GHOUL REALM, THEREFORE WE CANNOT VERIFY THAT IT IS VIRUS FREE. THE STAFF OF THE GHOUL REALM WILL NOT BE HELD RESPONSIBLE IF ANYTHING HAPPENS TO YOUR PC AFTER DOWNLOADING MAKAIMURA EXCEED*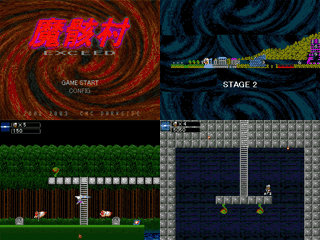 Yashiro's come through with another great piece of news - Firebrand will be making a long overdue appearance in a fighting game! The game? SNK Vs. Capcom: Chaos by SNK Playmore! According to Yashiro, "Apparently, when you fight the last boss (Shin Akuma or Shin Mr. Karate) you fight Firebrand if you do badly..." Check out the first pics of Firebrand in action below (click on them to see them fullsize).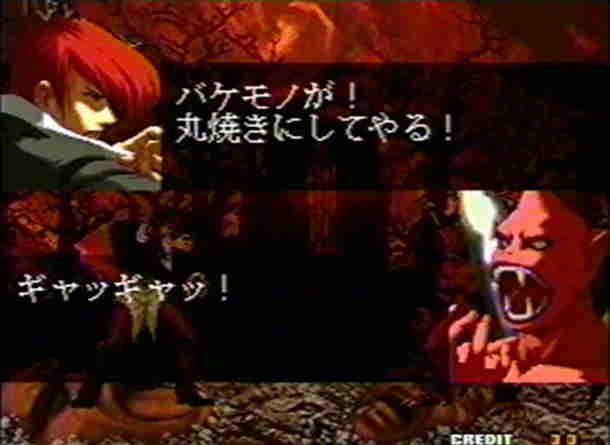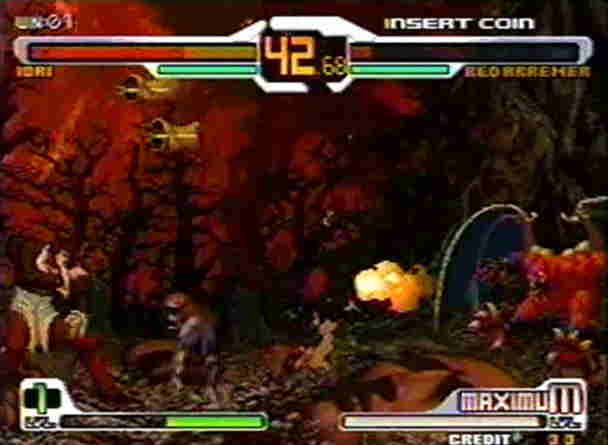 Okay, technically it's a Red Arremer (according to the screenshots), but when the game hits the U.S., we're hoping it'll be changed to Firebrand.
According to CheapAlert, this is what Firebrand is saying in both screenshots he's speaking in above:
svcchaos1.jpg
"GIGIGIGYA!" (just random shouting)
svcchaos4.jpg
"Yum! Fresh meat, just as I thought."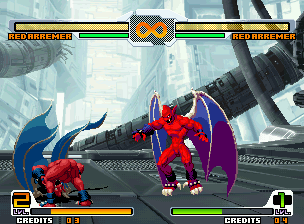 Here's a new picture of the Red Arremer from SVC Chaos. The two of them fighting seems to imply Red Arremer/Firebrand will in fact be a playable character. I have been informed by Deadman Gouka that Red Arremer is not playable, but perhaps this will change in the PS2 version? Either way, he has also informed me that Red Arremer's/Firebrand's attacks include shooting off fireballs, summoning the small wraiths from the first G'NG as well as the little imps and zombies. When he wins against a rival, it will transfrom him into a G'NG monster or a creature from Chinese folklore.

Ooh la la...
Firebrand (or at least a Red Ariima) also shows up in the Japanese-only arcade game Adventure Quiz Capcom World, released in 1989. Apparently he quizzes you, or something... I can't tell.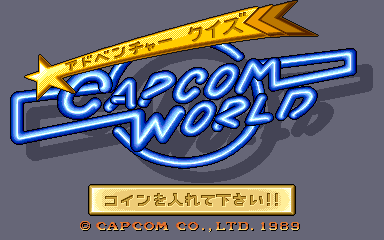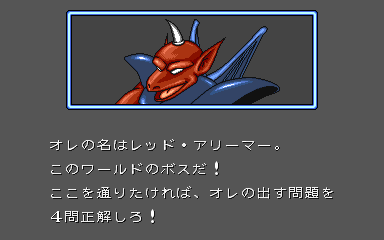 According to CheapAlert, this is what the Red Ariima is saying in the screenshot he's speaking in above:

"My name is Red Ariima.
I'm this world's boss!
If you want to pass this level, you have to answer four questions correctly."




back